Seryal: Serialization and Track&Trace solution
Connect. Serialize. Track&Trace.
Limitless!
YSERYAL è più di un pacchetto software. È una piattaforma di gestione della serializzazione prodotti e la loro tracciatura lungo la catena di distribuzione (Track & Trace). Ideato per l'industria farmaceutica, dove le normative di anti contraffazione (FMD) impongono alle aziende delle rigide regole sui controlli della produzione, conservazione e distribuzione di ogni singola unità di vendita, YSERYAL è in grado di coprire diversi settori di mercato con simili esigenze, come ad esempio l'alimentare.
YSERYAL è un sistema modulabile ed espandibile e si posiziona come centralizzatore nella gestione delle informazioni provenienti dalle entità produttive per trasmetterle in modalità sicura ai partner, ai distributori e agli enti nazionali di monitoraggio e controllo.
Connect
Unique centralized corporate-level system
SERYAL is easilly integrated with other systems on following levels:
L2 - Packaging machine and OCV (when SERYAL L3 is installed)

L3 - Line Serialization management software

L4 - Business partner's and distributors

L5 - National HUBs and Governmnet agencies
Connect all your packaging lines, all units, all production plants and CMOs.




Make onboarding of all your partners and distributors. SERYAL supports main communication standards and can be easily extended




Connect to European Medicines Verification System (EMVS) HUB and distribute in Europe.




Serialize
Manage events and data flows of any complexity.



SERYAL assures sending all events related di serialization (commissioning), aggregation and shipping.
SN Provisioning from BPs: if you are CMO (Contract manufacturing organization), receive SNs to print from your Business Partner.

SN Provisioning to CMOs: If you are Pharma company that delegates the production to third parties, forward them your SNs

SN Generation: No need to pay SNs for your products . With SERYAL generate as many SNs as you need at no cost.

Commissioning: Receive SNs from packaging lines and send them to the your partners or national HUBs

Aggregation: Manage all aggregation levels you need and decide which of them should be sento to partners.

Re-aggregation: Do any manipolations on your packages, like partial or mixed pallets. Every change is recorded.






Receive SNs from your partners, when you are CMO


Generate your own SNs, when you are Marketing Authorization Holder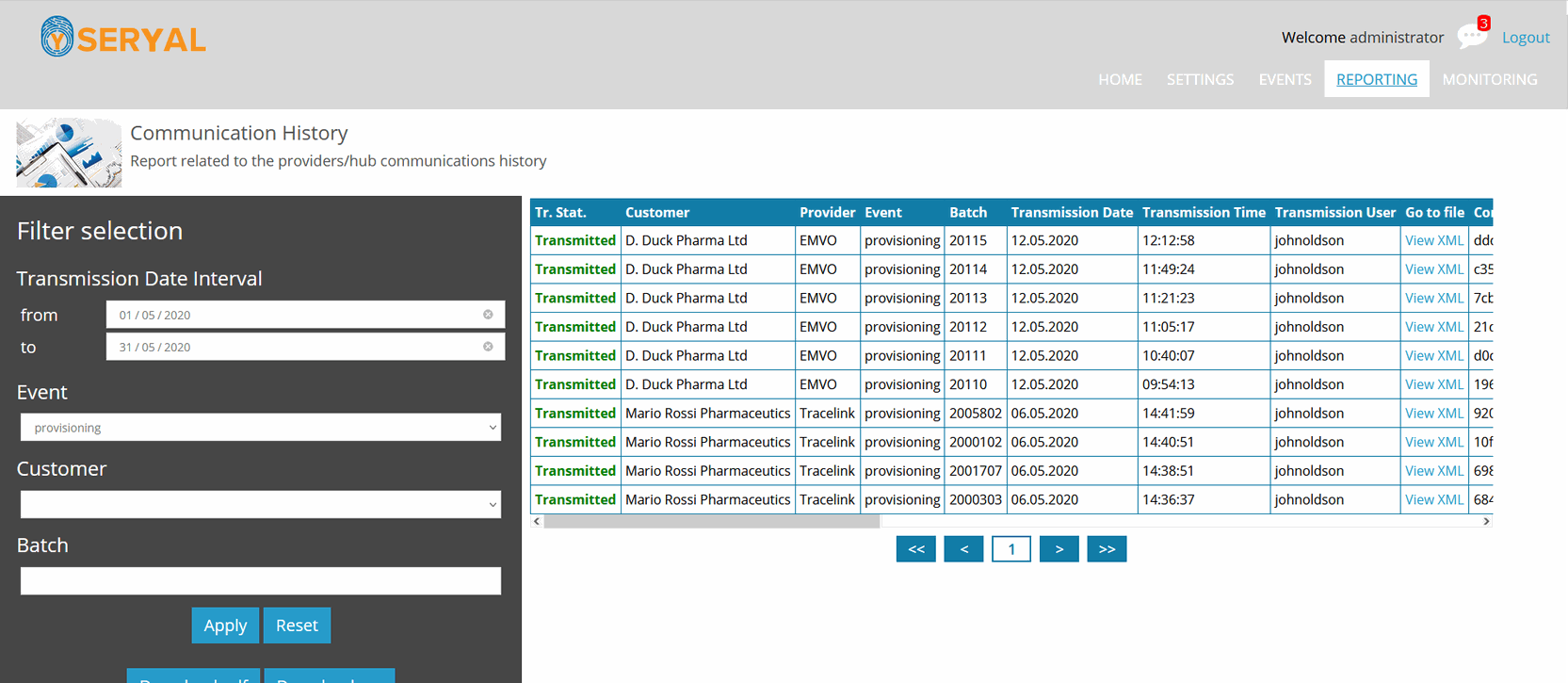 Manage aggregation at 2, 3 or more levels. Store all data and send automatically only what is required.

Track and Trace
Track all data related to your batches along the entire supply chain


SERYAL fits perfectly into corporate's architecture and becomes the powerful and essential partner in the global supply chain.
Serialization forced the pharmaceutical companies to accelerate their digitalization process, asking to further strengthen the connection between the production, quality control, and the supply chain. Moreover, the level of detail has dramatically increased moving from batch to every single sales unit. And the requirement is to keep this level even after the goods physically leaves the company. This "quantum leap", both in the quality level of data and in his quantity, would not be possible without an adequate digital tool.
SERYAL fits in a smart way into any corporate's IT and business environments and creates new opportunities by establishing solid connections between ERP, packaging department, warehouse, and Global Supply Chain.